So, you've decided to become an internet model and now you are doing research on some of the websites that you would like to work for. An Internet Modeling review is in order. If one of the sites you are researching on how to become a cam girl, is internetmodeling.com then read on. Here we will review this website and talk about some of the pros and cons of signing up with internet modeling.

What is Internetmodeling.com
The Internet Modeling company is webcam website which visitors can tip cam girls and guys tokens for their live on-cam performances. Performances include nudity, sex acts and chatting with webcam models. A standard webcam website in the industry of live cam girls on the internet.
They started in 1998 and are one of the longest-running webcam model websites in the industry.
What's different about internetmodeling.com is their better than average payouts along with a supportive cam model support team. The platform is easy to sign up with and start working as a cam model. Thus, it is a great site for new cam models who have yet to venture into the world of internet modeling.
It is also good for more experienced models in that the streaming is of above-average than other webcam sites and allows users to leave ratings and reviews of cam models. This means if you know what you are doing you can get great reviews that can attract more webcam visitors.
Internet Modeling Pay
Internetmodeling.com pays more in comparison to other cam sites that take a bigger cut of your earnings for the privilege of using their websites. 70% of earnings you will keep as a cam model. The rest is split between the company and if any, an agent if you signed up through an affiliate link.
You can also receive gifts from your webcam visitors in a way that keeps your privacy. They simply send the package to Internet Modeling's address and for free, Internet Modeling sends it to you, so no risk of a random stranger knowing where you live.
Internet Modeling Agent Review
As a webcam model at Internet Modeling, you can also make more money by signing up as an agent. From there you can share a special link that if someone clicks on and signs up for Internet Modeling you will receive a commission when they make money.
Inviting your friends who are interested in becoming cam models can then have the potential of earning you more money at Internet Modeling.
Is Internet Modeling Legit?
You might be wondering if Internet Modeling is a legit service. From experience, I can tell you they are in fact legitimate. Model payments and agent referral payments are always on time Currently, I have referred over 100+ models and receive a cut from their performances as well.
They offer a variety of ways to get paid. I prefer the direct deposit method but started with a mailed check at the beginning of working with Internet Modeling. Their support is also great. As an agent model, I can contact my models to make sure their questions are answered. They include a dedicated 800 number with live representatives should you have the need to contact them directly.
Webcam Modeling Jobs
In order to work for Internetmodeling.com, you must
be at least 18 years old
have proper photo identification
possess an adequate laptop or PC
a decent webcam that can stream live video in HD resolution
In order to sign up with Internet Modeling, you must fill out their application and supply all needed documents. Once approved you can start working as a cam model instantly. You do not need prior webcam model experience to begin; another reason why internetmodeling.com is good for new cam models.
Internetmodeling.com Sign-up
If you are ready to start you can use this link here to begin a webcam modeling career at Internet Modeling now. Be sure to add as much information to your profile as possible. Include your working schedule, at least 5 pictures and an informative bio that will attract visitors.
Because Internet Modeling has been around for years they attract around 50,000 visitors a day according to their website.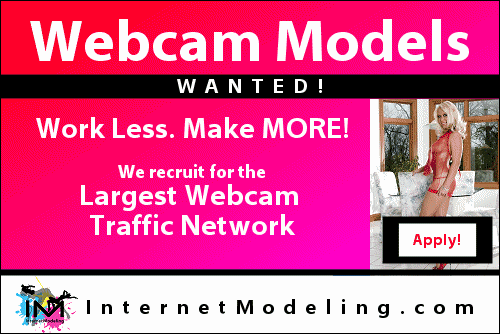 Latest posts by Jordan Emery
(see all)